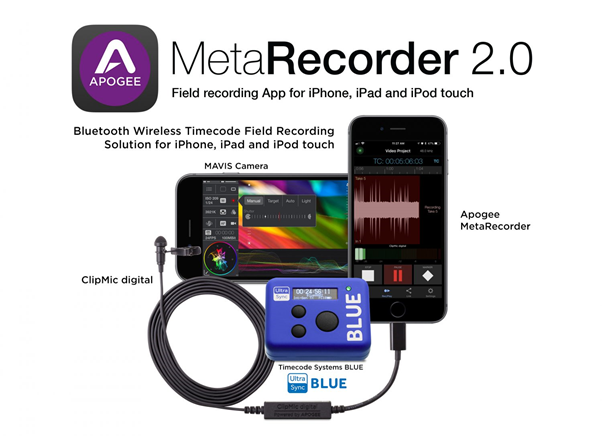 Download the Apogee MetaRecorder app from the App Store for iPhone and iPad.
To add support for the UltraSync BLUE the 'timecode upgrade' is required. This is an in-app purchase of $2.99.
Launch MetaRecorder and select the settings tab.
Select Enable Bluetooth Timecode. 
Select Pair.
On your UltraSync BLUE select Bluetooth Pair from the main menu.
The UltraSync BLUE will now search for compatible Bluetooth® devices.
Once your device has been detected press the select button on the UltraSync BLUE and then confirm above.
The app will display the name and frame rate of the paired UltraSync BLUE.
Rec/Play tab, the timecode on the UltraSync BLUE will now match the timecode on MetaRecorder and will show as blue in colour.
You are now ready to record; select record to start recording. 
To export your recorded files select the scenes tab. 
Press select on the top right, select the scene you wish to export and press on the upload icon.
You can now select how you want to export your recording.