With UltraSync BLUE you can create a network of synchronised devices, even if you're not using high-end cameras, sound recorders, and our pro devices such as the :pulse.
You can sync the UltraSync BLUE with other Timecode Systems products, such as the SyncBac PRO or other UltraSync BLUEs. The devices use radio to sync the timecode.
The UltraSync BLUE can then send the timecode to 1-4 recording devices via Bluetooth.
In this example network, there are three UltraSync BLUEs, where (1) is the master and (2) are the slaves. The master connects to the slaves via radio and they all sync to the master's timecode settings. The master sends its timecode via Bluetooth to 4 smartphones. Each slave also sends the timecode to smartphones (4 smartphones per slave).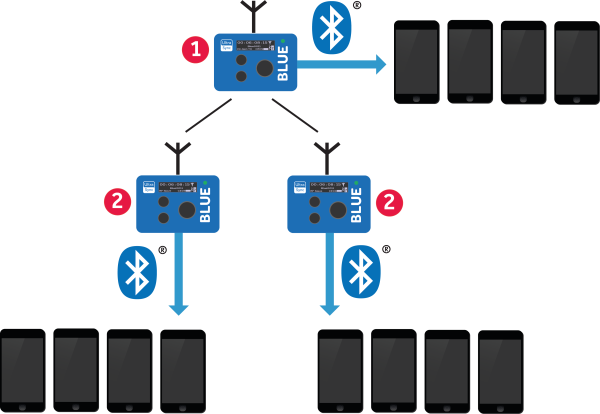 For this type of network, you need to:
Pair the UltraSync BLUEs with the recording devices.
Set one UltraSync BLUE to run in Int Master RF TX mode.
Set one or more UltraSync BLUEs to run as RF slaves.